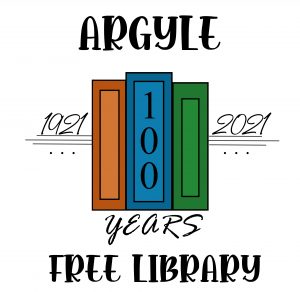 100th Anniversary Celebration
The Argyle Free Library is celebrating its 100th anniversary!
Come take a look at our Memory Scrapbook of pictures of Argyle Library events through the past 100 years. If you have some to add, we would love to include them. Photos donated will be scanned and returned.
We also have beautiful new Limited Edition Library Cards with a beautiful 100th anniversary logo designed by Julia Bolio, a student at Argyle Central School.